Eddy Reynoso the trainer and manager for Saul 'Canelo' Alvarez has now put out a statement declaring Canelo as a free agent.
Reynoso states that starting from the 6th November 'He is a free agent and ready to continue with his boxing career'. Team Alvarez will 'announce the date, rival and place very soon'.
This does leave a certain amount of uncertainty over what has happened to Canelo's 11-fight $365m deal that he inked in 2018. The Mexican has been in a legal dispute with DAZN for a while over DAZN refusing to pay Canelo's fees due to a lack of 'premium opponents'.
The OTT streaming service argued that Jacobs and Kovalev who the pound-for-pound number one boxed in 2019 were not of premium quality.
DAZN stated that there is a tier of opponents they classify as premium and these were apparently made aware of to the promoter Golden Boy but not Alvarez in their separate contract.
What should Canelo do next?
Since Canelo Alvarez's split with Golden Boy and DAZN, he has several options to turn to.
The best option could be in the form of Eddie Hearn and Matchroom Boxing as they already represent Billy Joe Saunders, Callum Smith, Demetrius Andrade, Dmitry Bivol and his biggest rival in world boxing 'Triple G' Gennady Golovkin.
However, Matchroom has a streaming deal with DAZN which means it is highly unlikely he will join them or any other promotional company that broadcast on DAZN.
As a result, the other options for Canelo are Top Rank which would see him fight on ESPN PPV and give him the opportunity to box WBA (Regular) champion, Ryota Murata, in Japan which is a sizeable fight.
Other than this Canelo would have to move up to light heavyweight to challenge unified world champion Artur Beterbiev.
He could also choose to box under the PBC banner with TBG Promotions. This would give him the opportunity to box under the FOX or Showtime PPV platforms and gives him David Benavidez, Caleb Plant, Avni Yildirim and both Charlo's as potential opponents.
Alongside this, WBA (Regular) champion Jean Pascal would be another option although it would be lesser desirable.
PBC and Top Rank are the 2 best companies to represent Canelo in world boxing, but the Mexican may want to follow in the footsteps of Floyd Mayweather and remain a free agent.
Since Alvarez already has established himself into a position in boxing where he selects his opponents who would all comply for the right money he may want to remain in this position.
Being a free agent allows for Canelo and his team to select all of his opponents in the future giving him access to a wide pool of names.
For the moment it is likely Canelo will campaign at 168 pounds where the biggest fights are Billy Joe Saunders, Callum Smith and IBF champion Caleb Plant. However, a vacant world title shot with Avni Yildirim may make sense if he wants to compete in 2020.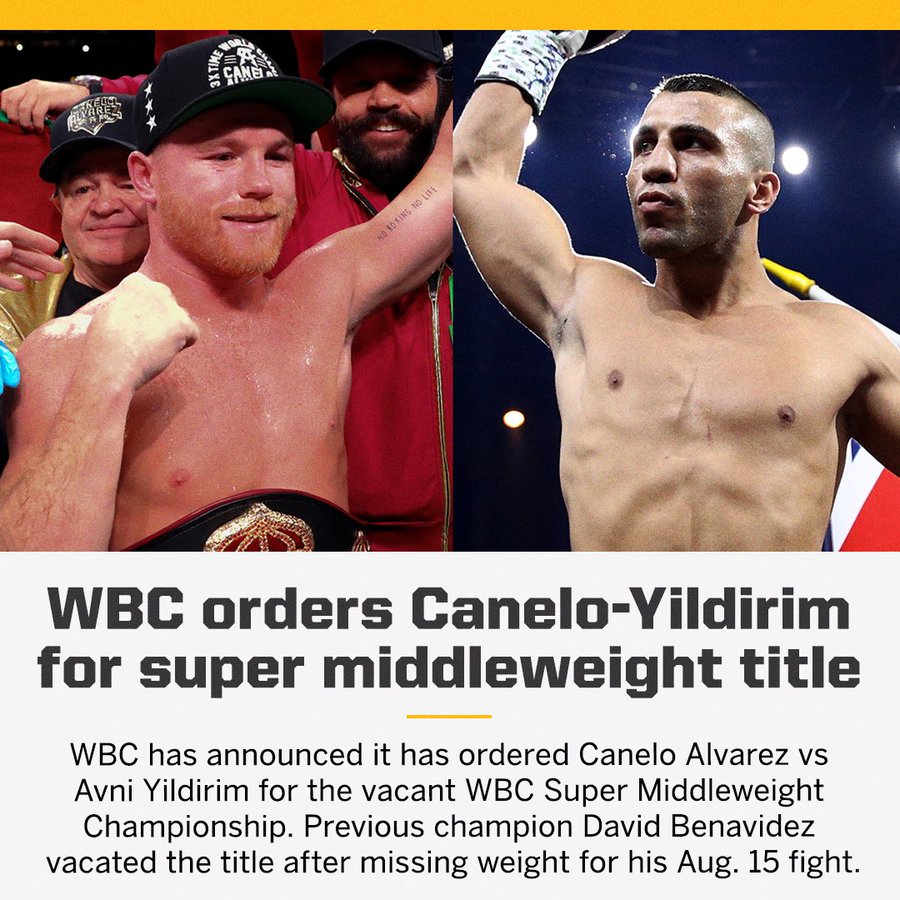 The WBC ordered Alvarez Yildirim for the vacant WBC Super-Middleweight crown in August but due to Canelo's dispute with DAZN purse bids have been delayed.
Canelo can now agree on a deal with Yildirims' representatives in the PBC to fight Yildirim on a PBC platform on December 19.
This date has been set aside for Canelo if he wanted to compete this year and was originally meant to feature the Wilder-Fury trilogy.
Since the resolution of Canelo's situation with DAZN, it is likely that he will want to box this year as he is in the prime of his boxing career. With him already being in preparation for several months and the lack of need for ticket sales he may announce a fight with Yildirim soon with only 5 weeks notice.
IBF Champion Caleb Plant is also touted as a strong contender.