Denzel Bentley vs Felix Cash: Tonight Live on BT Sport 1 from 7:30m PM, Frank Warren of Queensberry Promotions provides you with an exciting night of action topped by a much anticipated domestic battle between two unbeaten titleholders. Frank Warren Won the purse bids for this in February.
In the Main Event, Battersea's Denzel Bentley (14-0) unifies his historic British Middleweight Title with fellow unbeaten Commonwealth Champion Felix Cash (13-0). Denzel Bentley vs Felix Cash pits Matchroom vs Queensberry for the second consecutive weekend, both at the same weight. The Winner of Bentley Cash will be eyeing a World Title Shot in the next 18 months.
With Chief Support, World Title challenger and Light Heavyweight banger Callum Johnson (18-1) returns to the ring for the first time in over 2 years. 2 and a half years ago, he dropped WBC/IBF Champion Russia's Artur Beterbiev in what many feel was and still is Beterbiev's toughest test to date.
Tonight he attempts to get back into title contention by claiming the WBO Global Strap and producing a spectacular performance against Emil Markic (32-2). A win here could set up a European title shot, a big domestic fight against the Yarde Arthur 2 winner or a world title Eliminator.
On the Denzel Bentley vs Felix Cash undercard, Popular Heavyweight prospect David Adeleye (5-0) returns just one month after his last fight in a big step-up against tough Poland's Kamil Sokolowski. Additionally, Henry Turner battles upset-minded Jamie Stewart, who shocked Michael Hennessey Jr on Channel 5 and fought to a draw with Florian Marku. Opening the broadcast is young Super-Lightweight prospect, Henry Turner.
There will be 3 other fights on this card that will float/ completed before the broadcast or after the main event. The Main Event is expected to be no earlier than 10 pm GMT. There is no US Television for this card.
Denzel Bentley vs Felix Cash Running Order: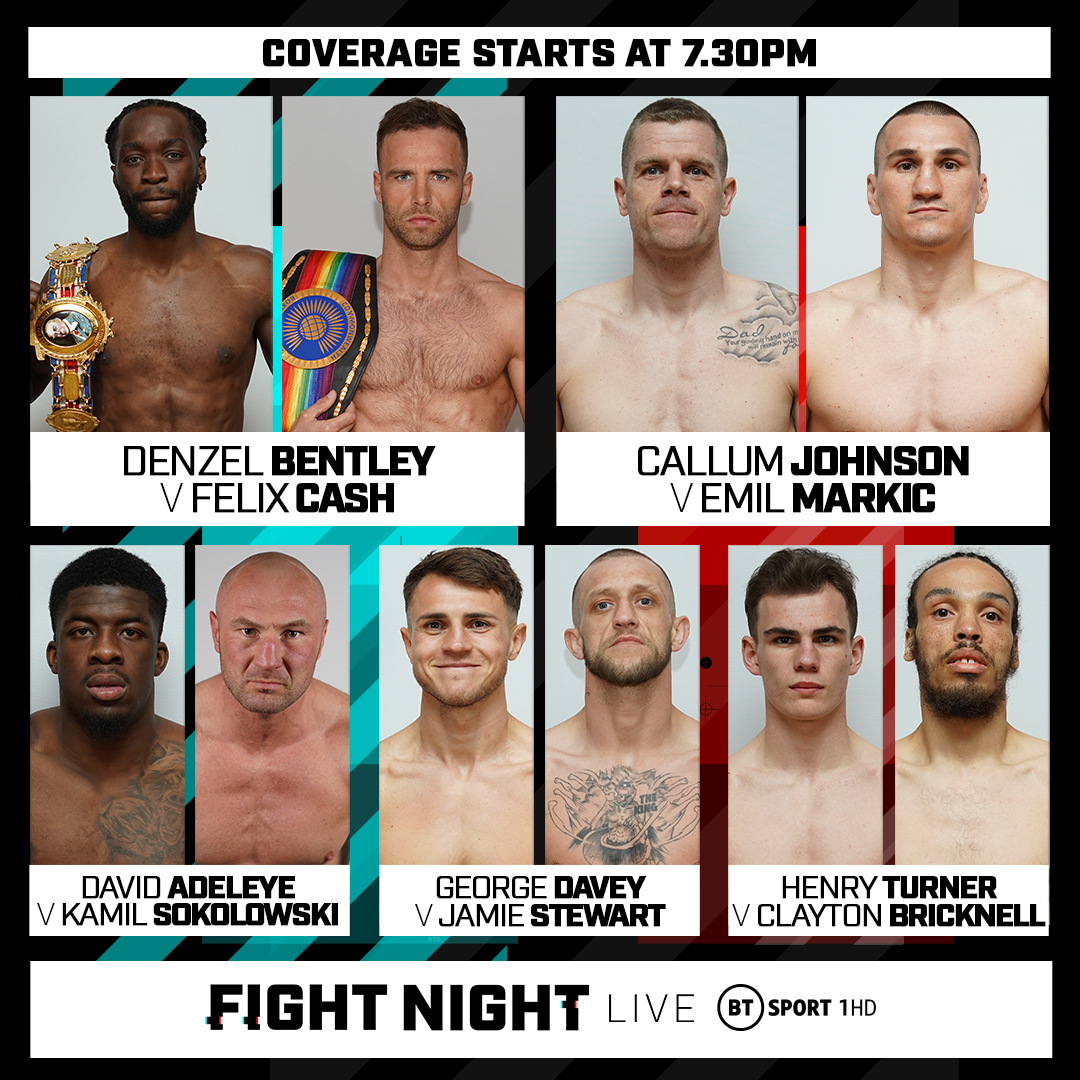 Henry Turner vs Clayton Bricknell
6 Rounds Super Lightweight
George Davey vs Jamie Stewart
6 Rounds Welterweight
David Adeleye vs Kamil Sokolowski
6 Rounds Heavyweight
Callum Johnson vs Emil Markic
10 Rounds – Chief Support
WBO Global Light Heavyweight Title
Denzel Bentley vs Felix Cash
12 Rounds Middleweight – Main Event
British and Commonwealth Titles
Denzel Bentley vs Felix Cash Weights:
Main Event
Felix Cash – 159.9 lbs
Denzel Bentley – 159.4lbs
Chief Support
Emil Markic – 174.5lbs
Callum Johnson – 174.6lbs
Televised Undercard Fights
Kamil Sokolowski – 230lb
David Adeleye – 225lb 7oz
Clayton Bricknell – 138lb 3oz
Henry Turner – 142lb 2oz
Jamie Stewart – 146lb 2oz
George Davey – 147lb 4oz
Non Televised/Float Undercard Fights
James Heneghan – 161lb 8oz
Dwain Grant – 161lb 6oz
Ryan Hibbert – 176lb 9oz
Karol Itauma – 176lbs
Daryl Pearce – 147lbs 5oz
Owen Cooper – 147lbs 6oz
Denzel Bentley vs Felix Cash From 7:30 pm GMT on BT Sport 1