Post-fight analysis of the boxing on Friday 27th November and Saturday 28th November including Dubois vs Joyce, Tyson vs Jones, Jake Paul vs Nate Robinson, Tony Yoka vs Christian Hammer and Daniel Jacobs vs Gabriel Rosado.  Most boxing fans were heavily anticipating Dubois vs Joyce, following Dubois vs Joyce on BT was the Tyson Jones card. Unlike Dubois vs Joyce, Tyson Jones was PPV.
Yoka vs Hammer: Frenchman still far from world level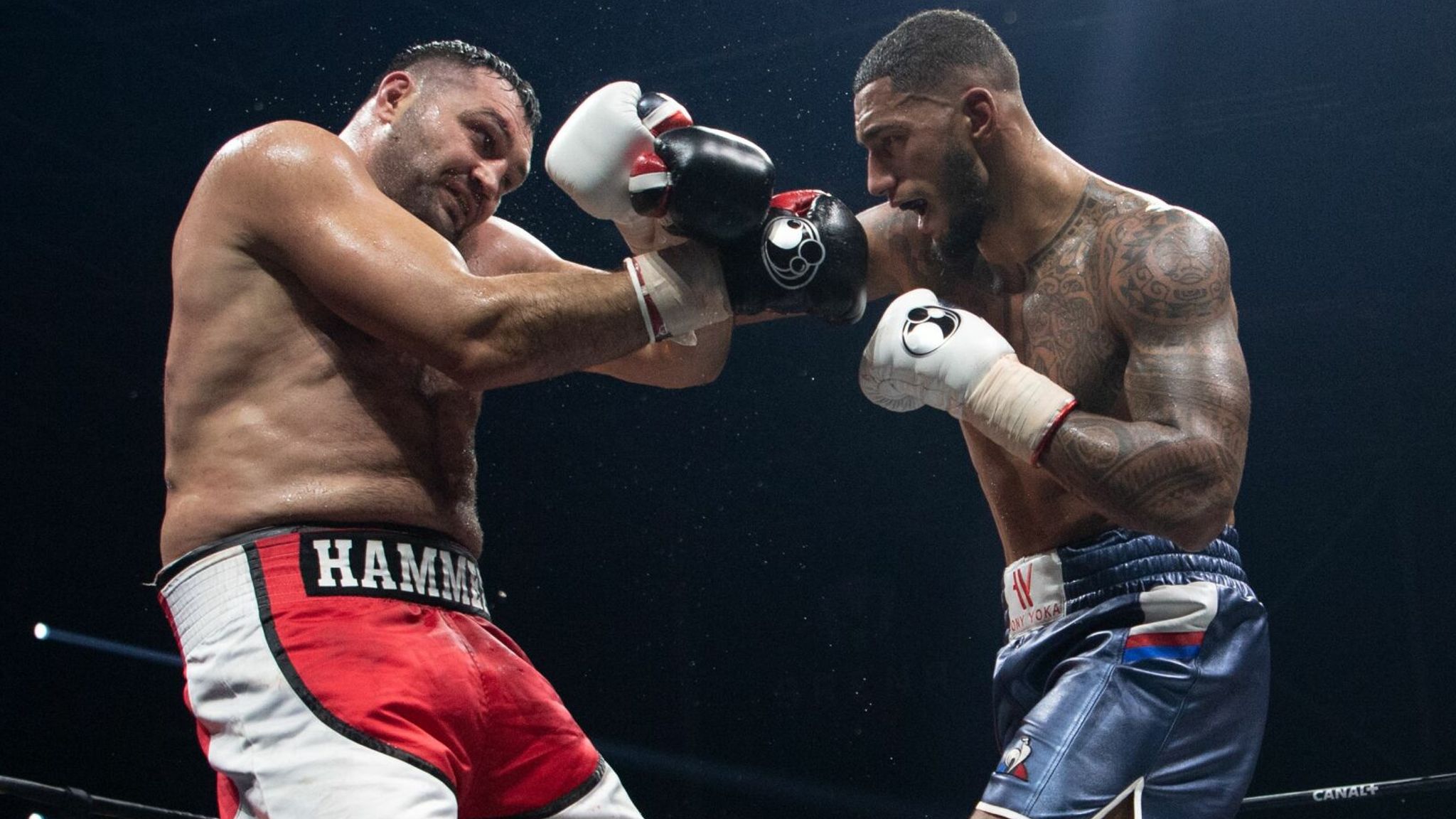 Christian Hammer survived a second-round cut to his right eye due to a clash of heads to take French Olympic gold medalist Tony Yoka the 10-round distance. Yoka faced his toughest test to date against the aggressive German, going the distance for only the second time in his career; first against American Jonathon Rice.
Yoka improved to (9-0) with a shutout unanimous points win, (100-89) reflective of all three cards on a night where he was far from his best. The prospect failed to impress and missed the opportunity to make a massive statement against one of the division's toughest fighters.
Yoka Hammer was nowhere near like Yoka's last fight against Duhapus where Yoka scored a first-round KO. Yoka made no attempt to stop Hammer or throw many power punches. After two rounds it was clear that Yoka was just there to bank the 10-rounds of experience and move on unscathed. This may be due to the fact that he has another fight lined up with Peter Milas for the EBU heavyweight title and did not want to suffer any injuries.
Yoka's unspectacular performance proved that he is still behind the other heavyweight prospects and far from the divisions elite, not making enough of a statement to call out the winner of Dubois vs Joyce.
Jacobs vs Rosado: Unexciting, Disappointing, Boring
Daniel Jacobs captured a controversial split-decision victory against tough gatekeeper Gabriel Rosado (115-113, 115-113, 113-115) over twelve rounds in a fight which can only be described as 'disappointing'. Fans were promised a 'war' and a thrilling fight, the fight was promoted as 'bad blood, bad intentions' but clearly neither men picked up the pace on the night.
The fight was debated by the few viewers that were still watching the unexciting, undramatic contest and DAZN commentators and most critics had the fight to Rosado. This is the second fight in a row where Jacob's performances have been underwhelming and fans question after his huge payday and tight points defeat to P4P #1 Canelo if the desire is still there.
'Miracle man' seems like a fighter that fights knowing he has a mansion to go back to and undetermined to do everything in his power to win. After 12 rounds, Jacobs was not even breathing heavy and did not look like he'd just been in a tough fight; the will and motivation to go the extra 10% is not there from Jacobs and fans disregard him as a top contender at 168.
However, Jacobs did make clear that he wanted the Billy Joe Saunders fight after this. Saunders defends his WBO Super Middleweight crown against Martin Murray December 4 on DAZN. At this point in their respective careers, Saunders is heavily favoured to win and dominate the Brooklyn-born Jacobs.
Dubois vs Joyce: Joyce Stuns Dubois with a 10th-round KO
Joe 'The Juggernaut' Joyce ended the Dubois Hype train with a spectacular performance resulting in Dubois taking a knee and quitting in the tenth-round. This came due to the consistent and accurate Jabs by Joyce to the left eye of Dubois causing it to shut and impairing the vision of Dubois. Big Joe Joyce threw pretty much nothing but the jab throughout the 10 rounds and even ended Dubois vs Joyce with a perfect straight left.
Dubois vs Joyce was very even at the time of the stoppage but it was clear that the tide was turning in Joyce's favour as the young, novice Dubois ran out of gas attacking Joyce. Joyce's granite chin was heavily praised as he consistently took shots from Dubois the entire fight with them having little effect on him. This disheartened the young Dubois as he is not used to someone taking his punches so easily.
After Dubois vs Joyce, Joyce is now the British, Commonwealth and European champion. In addition to this, he has taken Dubois Number 2 ranking with the WBO and enhanced himself in the WBC rankings. Joyce is now 35 and he and his team look for the big fights. This could come in the form of a vacant WBO title shot against former undisputed cruiserweight champion Oleksandr Usyk if Joshua were to vacate to fight Fury next.
Paul vs Robinson: Disgrace to the sport
YouTuber Jake Paul brutally knocked out NBA star Nate Robinson in the second round of their fight on the Tyson Jones chief support. After a dramatic first-round, which included Robinson springing forward attempting to close the distance and a knockdown for Paul, Jake Paul dropped him twice in the second round face-flat with the second being the brutal KO.
It was very clear in the fight that Robinson was a complete novice and should not have been allowed to be a professional. Boxers around the world like Amanda Serrano and Kal Yafai criticised the CSAC for giving Robinson a license. People also criticised the referee as Robinson didn't beat the 10-count in either 3 knockdowns but was still allowed to continue.
Jake Paul now looks towards the big KSI fight in 2021.
Tyson vs Jones: Better than expected
Following Dubois vs Joyce, on BT Sport Box Office Mike Tyson battled Roy Jones Jr to a disappointing draw. However, since it was an exhibition and the judges were unofficial is it not completely ridiculous to suggest the WBC and their appointed judges were not going to pick a winner despite what happened in the fight as Tyson clearly dominated.
Tyson was very impressive for a 54-year old fighter as he showed attributes such as bobbing and weaving and shot selection that are better than the heavyweights of today. He applied constant pressure, bring the fight to Jones and clearly won most of the rounds. Jones who's style relied more on his reflexes was clearly very rusty and looked gassed by the fourth-round.
Despite this, it is clear that Tyson would not be competitive with the heavyweights of today despite several comments by fans and so-called 'boxing experts'. However, the event overall was exciting and well produced and boxing fans wouldn't mind seeing Tyson compete in more exhibitions if he wanted to.