​
The current season of the Premier League has seen Arsenal struggle to hold on to leads. Th Gunners have thrown away two goal leads against Watford, Crystal Palace and had to settle for a draw after having led for much of their last match against Wolves.
Defending was an issue for Arsenal for much of the final part of Wenger's reign at the club and Unai Emery seems to have done little to improve it. If anything, things seem to have gotten even worse under the Spaniard.
Emery has rapidly fallen out of favour with the Arsenal fans and it wouldn't be wrong to say some Arsenal fans are eagerly looking for a replacement for him.
Following a somewhat inconsequential UEFA Europa League game midweek, Arsenal will travel to play Leicester City on Sunday. The high flying Foxes sit above the Gunners in the table with a game in hand on them.
Arsenal's away form in the Premier League hardly fills one with any confidence. Given current form, any result besides a win for Leicester would be seen as a bit of an upset, given how things stand.
Even if Arsenal were to get a draw, it would only add to the fans' frustration with the current management and were Arsenal to lose, it could be the first step towards Unai Emery's position at the Emirates starting to get untenable.
​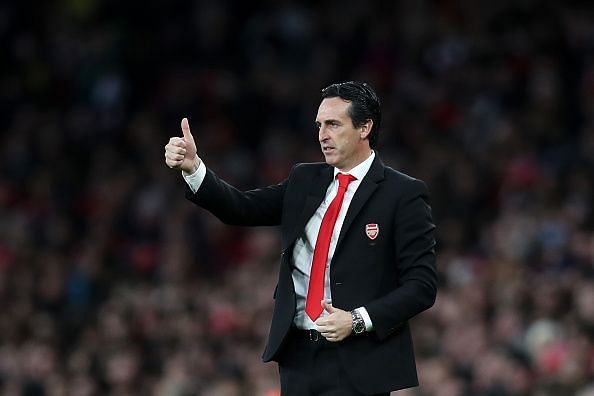 If Arsenal were to look at options, exactly who do they replace him with?
This being mid-season, most top managers with the pedigree to take over the reins at Arsenal are already employed.
There are currently three managers who fit the pedigree to manage Arsenal currently available – Jose Mourinho, Arsene Wenger and Laurant Blanc.
There is also Massimilano Allegri, who is currently out of a job, but he is not exactly available. He is on a 1-year break from management which only about halfway through.
Of those remaining, Arsene Wenger could be dismissed almost instantly. There is no reason to hand the reins of the club back to Wenger, besides sentimental ones. What is the point in going back to Wenger?
Wenger's final years were frustrating, the defence had rapidly declined during his reign and was in shambles during his final season in which the club finished 6th.
Laurant Blanc won 3 successive league titles with PSG, but is winning the league with PSG that hard? One would have to be truly inept to fail to win what is essentially a one-team league in France, with PSG.
While Blanc does at least he has 3 successive French league titles on his CV, it fails to inspire much awe.
Lastly, there is Mourinho. There is little to argue with his record. He has a track record of sustained success. Not many, if any, managers have a CV to boast of as Mourinho does.
He has won 2 UEFA Champions League titles in his career (which is 2 more than Arsenal have won in the club's entire history) and has won a plethora of the top honours in 3 of the biggest leagues in Europe – England, Italy and Spain.
Despite this, Arsenal fans loathe the idea of a Mourinho management at Arsenal. The truth is Arsenal fans hate his brand of football and they hate his guts.
At some level, they hate the fact that his arrival in England was the start of Arsenal becoming irrelevant in the title talk. His revolutionised Chelsea and Arsenal were trailing in their wake, gradually sliding down the table, as his methods and tactics upped those of Wenger's.
Mourinho was a winner, and he was rude and full of hubris. He made mocked Arsenal and Wenger and hit a low point when he called Wenger a specialist in failure.
The hatred that Arsenal fans have for Mourinho is strong and arguably justifiable.
However, Arsenal fans need to shun this mentality of sentimentality above winning. It is this very mentality that allowed Wenger to far outlast his utility as a manager and it would be a shame if this mentality got in the way of Arsenal hiring a true top-level manager with an enviable track record of success.
Barring his stint at Manchester United, he has built title-challenging squads which have been very strong defensively and tough to break down. This is exactly what Arsenal need right now.
Even his Manchester United stint in hindsight starts to feel more and more like a success than failure. Most United fans would swap him for Ole Gunnar Solskaer in an instant. It is only due to his extremely lofty standards that his short stay at United, during which he won the League Cup and a European Trophy, seems like a failure.
Contrast this with the fact that Arsenal hasn't won a European Trophy for nearly two and a half decades.
Even if Mourinho doesn't win a great number of trophies with Arsenal if he could only teach Arsenal to defend again, that alone would have been justified his appointment.
Arsenal fans need to start considering the positives of Mourinho's appointment with an unbiased mind, instead of focusing on ancient and frankly irrelevant history.
Mourinho may not be the manager that Arsenal fans think they deserve, but he is the one they need right now.
​