Anthony Joshua will make his much-awaited return to the ring on December 12. He will defend his unified world titles against his IBF mandatory Kubrat Pulev. Pulev won a final eliminator against Hughie Fury to become IBF no.1 challenger.
The fight is scheduled to be at the 02 and despite there being no crowds allowed at the moment, Eddie Hearn of Matchroom Boxing hopes that this will change. He claimed that they are hoping to have at least 4,000 in attendance due to a music event on December 5 being approved for that capacity.
This will be Kubrat Pulev's third opportunity to box for a heavyweight world title. The first time was against multi-belt world champion and pound-for-pound top 10 Wladimir Klitschko where he suffered his sole defeat; a 5th round knockout defeat after several knockdowns coming to lead left hooks.
Secondly, he was mandatory to Joshua before in 2017 but pulled out 10 days prior with an injury. After winning a final eliminator in a points win over Fury, Pulev signed a multi-fight deal with Top Rank and ESPN and has since boxed twice in the USA on top-rank cards in preparation for Joshua.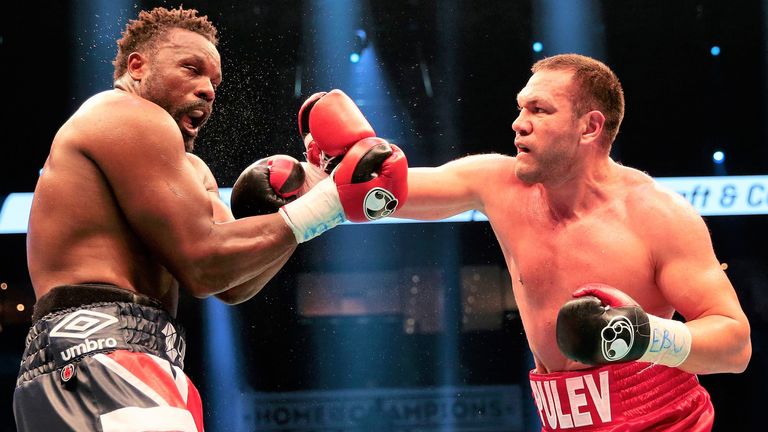 Although Pulev is a top-10 heavyweight in most fans opinion, there are several complaints about this fight as Pulev is 39-years old and people struggle to see anything Pulev can bring to the table.
Ruiz shocked Joshua in 2019, however, he was of prime-age and had a big advantage in hand speed. Pulev's best weapon is his jab which is likely to be ineffective against the taller, faster and stronger Joshua. Stylistically, Pulev has little chance against Joshua and many agree that the Brit will be able to stop Pulev with ease.
Despite this, Pulev has beaten several notable contenders since his defeat to Wladimir Klitschko such as Dereck Chisora and Hughie Fury; both convincingly and therefore arguably deserves another (most likely his last) shot at the world title.
Former Undisputed cruiserweight champion Oleksandr Usyk is the WBO mandatory for AJ and it is very likely that the winner of Joshua Pulev will be mandated to fight Usyk next should he overcome Dereck Chisora on October 31.
Joshua Fury
However, the fight that fans worldwide want to see is Joshua Fury and with terms already being agreed for that mega-clash on a 2 fight basis, followers of the sport are hoping Usyk will step-a-side and allow Joshua Fury to happen next for all the belts.
Promoter Hearn has reassured the public that AJ Fury will take place next, likely in the summer of 2021 even if they have to vacate a belt to make it happen. Should Fury and AJ come through their next fights, British fans will be treated to that spectacle next. Fury is scheduled to defend his WBC and Lineal title on December 5 in the UK against an unnamed opponent.
If Fury boxes in the UK in December it is guaranteed he will box on Pay-per-view which means that we will see 4 PPV cards in the space of 6 weeks in the middle of a global pandemic.
Adding insult to the injury, the premier league has announced some of its games on a PPV platform for the first time ever and it is likely that Joshua Pulev will be priced at 24.95 on Sky Sports Box Office, following the precedent set by Joshua Ruiz 2 and Wilder-Fury 2.