Mikael Lawal is the first instalment of a brand-new prospect series I will be doing known as 'prospects to watch'. This is a series where I will analyse the best prospects in world boxing and review their potential as well as future fights.
Mikael Lawal, the 'lethal' Nigerian cruiserweight is (13-0, 7 KOs). Don't let the record fool you though, he is a big puncher but has already been in with competent fighters there to survive, fearing the power from the first shot. The undefeated prospect is best known for being crowned 'Ultimate Boxer IV' Champion in the 200-pound edition in July of last year.
Mikael Lawal: The Early Life
This included a devastating first-round KO in the final against reigning central area champion Damian Chambers that was executed with a lethal left hook which saw Mikael Lawal receive the lion's share of the £50,000 tournament prize fund. Despite this, Lawal is far from wealthy.
As a child, he begged for food on the streets of Nigeria when he moved there due to the unfortunate death of his mother.
In Nigeria, he was abused by his father and this caused him to run away at a young age on his own looking for safety. He was then deported to the UK where he grew up as a troubled teen.
It was then that boxing changed his world forever as it has done to so many others such as Anthony Joshua, Lawrence Okolie and Gervonta Davis.
He walked into Stonebridge Boxing club at the age of 17 where he put on the gloves for the first time. Stonebridge Boxing Club is known for combating knife crime in its local North London area by giving young teens an alternative path. He impressed early at the gym, raging his energy into his boxing.
The Rise Through The Ranks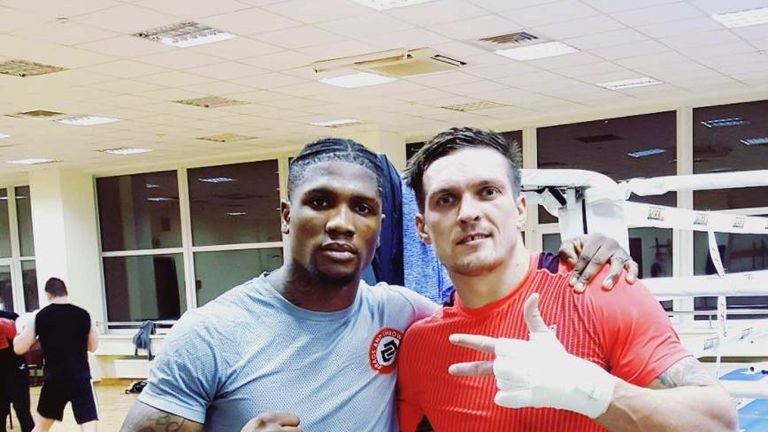 Lawal turned pro at 21 years old under the guidance of Manager Aamir Ali and promoter Team Sauerland with only 9 amateur fights that included 7 wins and 2 debatable split-decision losses.
With minimal experience, it would be difficult for Lawal to move through the ranks quickly, and he would have to pick the right learning fights.
This included trips to Saudi Arabia, Latvia and Germany in 2018 to box on WBSS undercards. In addition to this, he was called for sparring by Undisputed Cruiserweight champion Oleksandr Usyk where he gained a ton of experience and knowledge at the hands of the Ukrainian maestro.
Prospect to Contender
In 2019, he stepped up for the first time entering a knockout tournament known as Ultimate Boxxer which he eventually went on to win.
After impressing Boxer, he signed with their promotional team in 2020 and made his promotional debut last night against journeyman Ossie Jervier where he dominated a points win live on BT Sport and ITV 4.
Recently he has been sparring fellow Nigerian Anthony Joshua and has made a name for himself appearing on several sky adverts.
This should heavily boost his popularity and make him a bigger draw. As well as this, the added viewership from ITV 4 and two appearances on BT sport including a Knockout viewed over 300,00 times should go a long way.
Mikael Lawal now eyes a big fight in 2021 and this is likely to come against former commonwealth champion Luke Watkins in a final eliminator for the British Cruiserweight title currently vacant but to be contested by Chris Billam Smith and Deion Jumah.
This fight was ordered at the beginning of 2020 by the BBBofC but was postponed due to the pandemic. However, after Mikael Lawal having a warm-up fight and signing a new promotional deal it is very likely we will see this fight next in the early part of 2021.
Should Mikael Lawal go on to win the eliminator he would set up a major domestic fight with the winner of Jumah and Smith for the British and Commonwealth titles and could allow him to make a big statement in a wide-open cruiserweight statement.
With Lawrence Okolie boxing for the world title in December and Richard Riakporhe set to fight a WBA Title Eliminator the big domestic fights at 200 pounds are endless for the heavy-handed man from Shepard's Bush.