For most of the past decade or so, Men's Tennis has lived a golden era, an era that will forever be remembered when two of the giants of Men's Tennis Federer and Nadal, dominated and gave us many matches we will never forget, not least the epic Wimbledon final of 2008 when the King of Clay finally conquered the most coveted title on grass, and perhaps the most coveted title of all – the Wimbledon crown.
The past decade has not just been about these two players, and the rise of Djokovic and then Murray, has made it one of the most competitive and memorable Tennis eras of all.
Federer was the one to start early and as he rattled off Grand Slam wins after Grand Slam wins it seemed no one would be able to stop him. The only Slam that eluded Federer was the French Open where a young Nadal was the only obstacle to Federer completing a career slam.
Nadal however was a clay court specialist and if anything Tennis history had taught us, it was that clay court specialists don't usually win much apart from the French Open.
No one even entertained the idea that an out-and-out clay courter could ever challenge Federer on any of the other surfaces, and the idea of Federer being challanged on grass, and that too by a clay courter was not even fathomable.
Nadal was too young and too inexperienced to be considered a serious challenge to Federer, who by then had already started to be hailed, as the greatest of all time. Surely Federer would soon overcome this last obstacle and complete his dominance of world Tennis and only a matter of time before the career slam was his.
However the exact opposite happened, Federer could never quite get past Nadal on clay, but Nadal slowly started to challenge Federer on grass, and after the an epic five set final of 2007, rolled around it had become clear to all that Federer's reign on grass will soon be over.
Nadal had lost an epic, but showed once and for all that he was far closer to taking Federer's crown on grass, than Federer was to taking Nadal's crown on clay. Soon enough 2008 was the year that the King of Clay after another epic five set Wimbledon Final, considered by many to be the greatest match of all times, was crowned the champion on grass, and this final now in hindsight was a watershed event in men's history.
In 2008 Nadal won the French Open, the Wimbledon and would also win the Gold in Beijing and finally be crowned world no. 1. Federer's reign as the longest world no. 1 was over, and the sun had set on the Federer era, and the Federer – Nadal era had set in.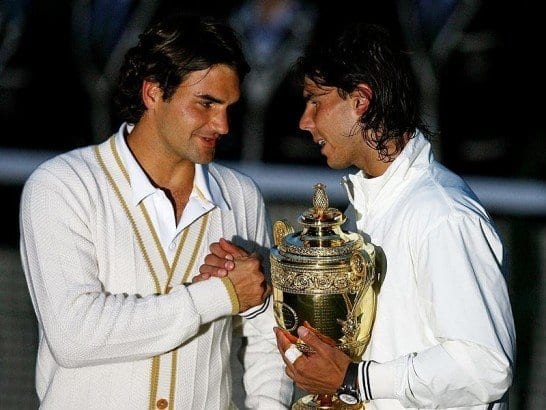 Till 2008 Wimbledon, Federer, barring the French Open was winning everything, however now the spoils started to be shared between the two modern-day giants.
Nadal, once considered a clay courter who could never really challenge Federer anywhere else, soon after toppling Federer on grass in 2008, beat Federer in another epic five set final in the searing heat, at the Australian Open in 2009.
Federer's crown as the undisputed champion was slipping, and one of the lasting images of this Final was Federer breaking down inconsolably at the trophy presentation – the pressure was beginning to tell.
There was soon be another twist to this rivalry though, and it was called Robin Soderling. After beating Federer in three back to back grand slam finals they faced each other in, French Open and Wimbledon in 2008 and the Australian Open in 2009, it seemed that Nadal was now firmly in control and was set to dominate Tennis for long.
The French Open 2009 rolled around and a Nadal win was being considered a mere formality, but then history has a way of laughing in your face when you think you know it all. There are not fit adjectives to fully describe the magnitude of the upset, especially now with the advantage of hindsight, and the knowledge of what Nadal has truly achieved at the French Open, so I will simply say it Robin Soderling defeated Nadal at the French Open.
Nadal's roller-coaster had been brought to shuddering stop and that too in his own backyard. Federer, who months ago had been reduced to tears by the pressure, with his biggest nemesis out-of-the-way grabbed this opportunity with both hands, and completed his Career Slam by finally winning the French Open.
Great players don't go away that easily after all.
On a side note, Robin Soderling made himself a household name with his defeat of Rafael Nadal, and even though he never a major event, he will never forgotten by the world of tennis, as the first and thus far only player ever to defeat Nadal at the French Open.
Upsets in any sport happen, but Soderling defeating Nadal was just at a whole different level.
Nadal's defeat at the French Open, was also the start of knee issues for the Spanish numero uno. Nadal's game was based heavily on movement around the court and a dodgy knee could be crippling to his play. Nadal skipped Wimbledon, and returned for the US Open 2009, to lose in the Semi – Final to Juan del Portro, who then went on to beat Federer in the final.
With Nadal's knee issues, and Federer clearly no longer the force he once was, it seemed the time was ripe for a new player to step forward, would it be Del Porto, who in the Federer – Nadal era had become the first player ever to beat both Nadal and Federer in a grand slam on his to the trophy, or will it be someone else.
However, 2010 if anything further established the Federer – Nadal era and showed signs that their dominance on world Tennis would continue for a while. Federer won the 2010 Australian Open, to defy those who said that he was no longer the Federer of old, and Nadal, putting the knee issues behind him, returned more dominant than ever in 2010 and reclaimed his throne on clay.
Rather aptly it was Robin Soderling, his conqueror from last year, that Nadal met in the final at Roland Garros, and Nadal soon avenged his defeat and humbled Soderling in straight sets.
However Soderling's place in history was already secure as the first player and till date the only player to beat Nadal on clay. Nadal would go on to win Wimbledon and then the US Open to win three back-to-back slams, to complete not just a Career Slam but a Golden Slam.
Federer's resurgence at the Australian Open though, was off-set greatly by the fact that he didn't make the final of any of the three remaining grand slams in 2010. 2010 heavily tipped the scales in favor of Nadal, in his rivalry with Federer.
Federer was still well ahead in terms of total slams, but Nadal was now catching up fast, and Federer was showing signs that he would not be adding to many more to his already huge tally of grand slams. In hindsight these fears did prove to be true, as Federer would win just one more grand slam and reach the finals of only two, since then.
So would 2011 bring more of Nadal's dominance, the answer very surprisingly was no, it would not. It was not Federer who stood in Nadal's way but a totally new rival in the form of Novak Djokovic emerged. 2011 was Djokovic' year as he won three of the four grand slams, beating Nadal in the finals of Wimbledon and the US Open. Nadal held onto his crown on clay, but clearly a new era had been ushered in.
Djokovic, though statistically was not anywhere near the best, but so complete was his dominance over tennis in 2011 that Pete Sampras said it was the best season he had ever seen, and Nadal, who along with Federer had taken tennis to unknown heights, and who had suffered the most at the hands of Djokovic in 2011, said that Djokovic's tennis was the highest level of tennis he had ever seen.
2011 and Djokovic's rise meant it was now the time of the Big Three, led by Nadal and Djokovic and Federer, who while not quite the same force he was, still capable of mixing it with the best. The Federer – Nadal era was over.
In 2012, Nadal and Djokovic met at the finals of the Australian Open in a match no one would ever forget. In 2008 it was the Wimbledon final that had been hailed as the greatest match ever, but in 2012 at the Rod Laver Arena in the searing heat, the term, 'greatest' was redefined, by Djokovic and Nadal.
Djokovic's rise in the past year had been nothing short of meteoric and who in sweep threatened to totally wipe out Nadal's dominance over modern tennis, and Nadal who had completely struggled against his latest rival, and was determined to regain the lost ground.
Djokovic eventually prevailed in the 'war' in a marathon five setter at the end of which neither player was quite capable of standing up.
This was the third straight final in which Djokovic had beaten Nadal and the empire Nadal had built up over the years was being swept away in one giant Djokovic wave.
There was however another chapter still to be written, and it was at Roland Garros 2012. Djokovic's dominance over Nadal was so complete that it seemed Nadal would find it hard to ever defeat Djokovic again.
Nadal had thrown everything at Djokovic, in their past three encounters in grand slam finals, and Djokovic had taken it all and throw even more back at Nadal. It seemed Nadal had nothing more to give, and Djokovic would beat Nadal in his sleep. When the two met at the French Open Final in 2012, it was a real possibility that Nadal would lose his French Open crown.
An unexpected upset in 2009 was an exception, but losing the title directly to his greatest rival at the time, that too the one title Nadal called his own, would have been a blow hard for Nadal to recover from. The King of clay was about to fall it seemed, and the fall seemed inevitable.
Nadal, albeit the King of Clay, was made not of clay, but of steel, which people it seemed had forgotten. Djokovic may have dominated Nadal on other surfaces but Nadal was now in his own backyard, and it was a different game now. Nadal promtly dispatched Djokovic in four sets. In 2008 Federer had eventually fallen to his greatest rival on the surface he was most dominant and at home, but in 2012 Nadal, faced with a very similar situation had held on to his crown.
The King of Clay had not been unseated and the Djokovic wave had finally hit the Nadal wall and withered away on the Clay of Roland Garros.
 In 2012 there was another surprise and that was when Federer regained his Wimbledon crown, the last Grand Slam he would win till date, and at the US Open in 2012, Andy Murray finally stepped up from being a Pretendor to a Champion taking the title defeating Novak Djokovic in five sets.
Djokovic it seemed had not reacted well to losing the French Open title and the dominance he had shown in 2011 all the way upto French Open in 2012, over world tennis was definitely on the decline.
However the most significant event of 2012 was that Nadal and his knee issues returned and were worse than ever, and when 2012 finished, it was feared that the punishing hard courts would be too much for Nadal to physically face in the future and Nadal would never again win a grand slam on the Hard Courts of Australia or US.
Djokovic however was soon to return stronger and avenged his loss to Andy Murray at the US Open, beating him at the 2013 Australian Open Final. Nadal customarily won the French Open again, but the biggest news of the year was at Wimbledon where Murray finished the long wait for a British Champion at the Wimbledon and promptly dispatched Djokovic in straight sets.
More than that though Andy Murray's win made the Big Three into a Big Four. The Federer Era had now transformed into an era of four players all who could win a grand slam and it had been a fine journey, taking the level of tennis higher and higher as era gave way to the next. However perhaps the best story of the 2013 tennis season was still to be told.
A year after 'experts' had said that Nadal could never win again on the hard court, finished the year once again taking the US Open crown and that too, by beating his biggest rival, Novak Djokovic and in straight sets. This in many way symbolised the journey that we have covered, so far, where ultimately it was the heart that triumphed over all odds.
Federer, Djokovic and Murray are all excellent tennis players and purely in terms of ability one could find it hard to seperate them and Nadal, but Nadal is a fighter at a whole different level, and that sets him apart from them all.
Nadal continued his hard court comeback into the Australian Open 2014, and reached the final, suffering an upset loss to Wawrinka. The defeat was disheartening for him no doubt, but his run to the final further helped allay fears of him never being able to compete on the Hard Courts. French Open 2014 went to the undisputed king of clay, and now we here with Wimbledon finally arrived.
The reason why I have taken such an in-depth look at the past is to be able to compare it to the future of world tennis. In the past decade Tennis has been like an epic playing out with lots of heroes and heroic efforts along the way.
A dominant Federer blew all away in his way and then a young Matador came calling for his head. They exchanged blow after blow, taking the level of tennis higher than it has ever been. What will history remember the most, the Wimbledon Final of 2007, when the Swiss giant, withstood all that a rampaging Nadal had to throw at him, and held onto his crown, or perhaps it was the 2008 Wimbledon final where the Spanish Bull, finally broke through the walls of the Swiss Maestro's most coveted fort to take his no. 1 crown.
Will history instead remember the 2009 Australian Open final, where the Maestro and the Matador had another go at each other, in the searing heat, and etched another epic.
Will history remember the Maestro never giving up, despite failing and failing badly at times, and finally wearing the crown on clay and completing or will it remember Nadal, making 2010 his own and becoming the first man in the open era to win Grand Slams on Hard Court, Clay and Grass in the same year and becoming only the second player ever to complete a Career Golden Slam.
Will history instead remember the destruction Novak Djokovic rained on the tennis world in 2011, and especially on Rafael Nadal, beating him in the finals at Wimbledon, US Open in 2011 in two great matches, but perhaps history will best remember the 'war' between Nadal and Djokovic at the Australian Open 2012 final, at the end of which the two warriors could barely stand.
It will perhaps be the French Open 2012 final which will stand the test of time, where a battered and bruised Nadal, vanquished every where by Djokovic, made his final stand at his most impregnable fortress, against the Djokovic storm which had so far been uprooted everything in its path with a precision and ruthlessness, that the tennis world had never seen.
It was here in 2012 at Roland Garros that the Djokovic rollercoaster finally fell, and Nadal was able to save his fortress, but at what physical cost. Nadal was so battered that his knee gave in and he hardly played any tennis that year, and it was feared that his knee would never again be able to take the toll of playing on hard courts.
Surely history will remember the 2012 Wimbledon final, when the Swiss Maestro came into his own one last time to remind everyone that Champions do not walk into the sunset with a whimper. Perhaps history will remember Andy Murray finally making it a big four and ending a near three-quarter of a century wait for a nation, or perhaps history will remember the return of the Spanish Bull, stretching the limits of what was physically possible and again dominating on the hard courts at the Australian Open 2013, his opponents and dodgy knee notwithstanding.
History will surely remember it all, and not forget even a second of this, for the matches have not been mere matches, but rather have been battles fought, as new and more spectacular chapters of an epic have been etched into our hearts.
 This Wimbledon is special, a very special one. This is the start of the end of the Big Four Era, and so we must cherish this Wimbledon.
At this time next year, Murray and Djokovic will be 28 and Nadal 29 and Federer at 33, a happy family man. While Federer has for some time now, been on his way out and that he has not won any Grand Slam since 2012 and just two grand slams since 2010, a firm indication of this.
However by this time next year Djokovic, Murray and Nadal will have had more tennis behind them than ahead of them, and their prowess on the decline rather than on the up. This really is a last opportunity for the tennis fans to cherish the sight of the golden generation in its full flow.
Sadly for tennis the future doesn't quite look as bright and there are no new twenty year olds emerging to take over the baton. Perhaps Wawrinka, notwithstanding that age is not on his side, will step up, using his shock Australian Open win as a springboard to make himself a serious contender for immediate future events.
Perhaps it will be Juan del Portro who will put the ghost of injuries behind him and step up to take up the baton when it is passed on by the golden generation. Who will step up we don't quite know yet, but what we do know is that this Wimbledon the Golden generation will take their first steps towards the sunset.
The idea is not to be sad about it, because the golden generation has taken tennis to a height as yet unmatched, and unknown and given us enough joy on the courts to last forever.
Federer and Nadal were the giants of this golden era, but in the short time they dominated Djokovic, especially, and Murray have taken men's tennis further ahead. It is very unfortunate that Djokovic and Murray played in the same era and Federer and Nadal, and that they still were able to etch their place in history, tells you all you need to know about what they would have done in another era, less competitive, but as fans we would not have it any other way.
This is what makes this era the golden era of mens tennis. If we ignore the numbers, and focus purely on the high level of tennis that has been on display in this golden era, then a watertight case can be made for the trio of Federer, Nadal and Djokovic to be the three greatest tennis players of all time.
So let us enjoy this Wimbledon where the golden era turns up still at their best, because whether they will do so next year we do not know. For this edition I feel Djokovic and Murray are the favorites to win.
Federer is not the same, and Nadal despite his resurgence may find the grass courts not quite to his liking. Regardless of who wins, the 2014 Wimbledon Championships signal a last hurrah for the golden generation of tennis.