Last Updated on 17 Sep 2021 1:39 pm (UK Time)
Matchroom Boxing Italy and their Italian boxing partners 'OPI Since 82' will return to Italy with a huge night of action to close out the year headlined by Patera Boschiero for the vacant WBC Silver Lightweight Title recently relinquished by Ryan Garcia.
Patera Boschiero will land on Thursday 17th December behind closed doors with no attendance at the Allianz Cloud in Milan which is the same venue they used in October for their last show there. All of the action similar to all Matchroom cards not in the UK will be exclusively broadcasted by DAZN.
Patera Boschiero for the WBA (Interim) and Rigoldi Yafai for the European Title, was meant to take place on March 27 but inevitably postponed due to the major effects of the pandemic especially in Italy. They now have the opportunity to feature on a bigger card with even more talented fighters such as New Matchroom Signing Maiva Hamadouche.
Patera Boschiero: Vacant WBC Silver Lightweight Crown
Former European Champion Francesco Patera has been a vital feature of Matchroom Boxing in Italy as he returns to Italy to headline for the third consecutive time against Italy's Devis Boschiero.
Patera is a two-time European Lightweight champion, initially winning the belt in an upset victory of Finnish Edis Tatli in 2017. However, Patera lost the belt in a rematch with Tatli later that year. Matchroom started working with Patera when he was ordered to face Brit Lewis Ritson for the vacant title after Tatli's decision to vacate the belt.
Patera outpointed home-favourite Ritson over 12 rounds and then defended his belt by unanimous decision against Marvin Petit in his native Belgium. He was then offered a fight with Paul Hyland Jr as part of Matchroom's new launch in Italy and impressed with a sixth-round stoppage.
'OPI Since 82' the partners of Matchroom Italy then offered Patera a clash with their undefeated Italian Prospect and massive home-favourite Domenico Valentino. Patera scored a knockdown against Valentino en route to a comfortable unanimous decision victory. 
Patera has now vacated his European title and looks towards a world title shot but will first have to get through veteran gatekeeper and former European champion Boschiero. Patera Boschiero was originally meant to be for the interim WBA title but is now for the WBC Silver crown with the winner moving closer to either of those belts.
Rigoldi Yafai: European Super-Bantamweight Championship
Gamal Yafai, part of the notable Yafai fighting family, won the Commonwealth championship of Bobby Jenkinson in 2016 and made a defence against gatekeeper Josh Wale later that year. After a win over the fellow undefeated Sean Davis, Yafai attempted to step-up to world level but suffered a tough points defeat to Gavin McDonnell.
Gamal Yafai now has rebuilt his career and takes on a very difficult challenge in the form of European champion Italian Luca Rigoldi as chief support to Patera Boschiero. Rigoldi captured the vacant European crown against Jeremy Parodi. He has defended it twice with two dominant performances against Anthony Settoul and Ukrainian Oleksandr Yegorov.
Rigoldi (22-1) has one career defeat early in his career but has yet to box against top opposition and although is the champion and home-fighter he is taking a step-up against the decorated Brit. Yafai is not ranked with any governing body but Rigoldi is ranked with the WBC and IBF and a win over him could propel him further into his dream world title fight.
Hamadouche Pavlovic: IBF Super-Featherweight World Title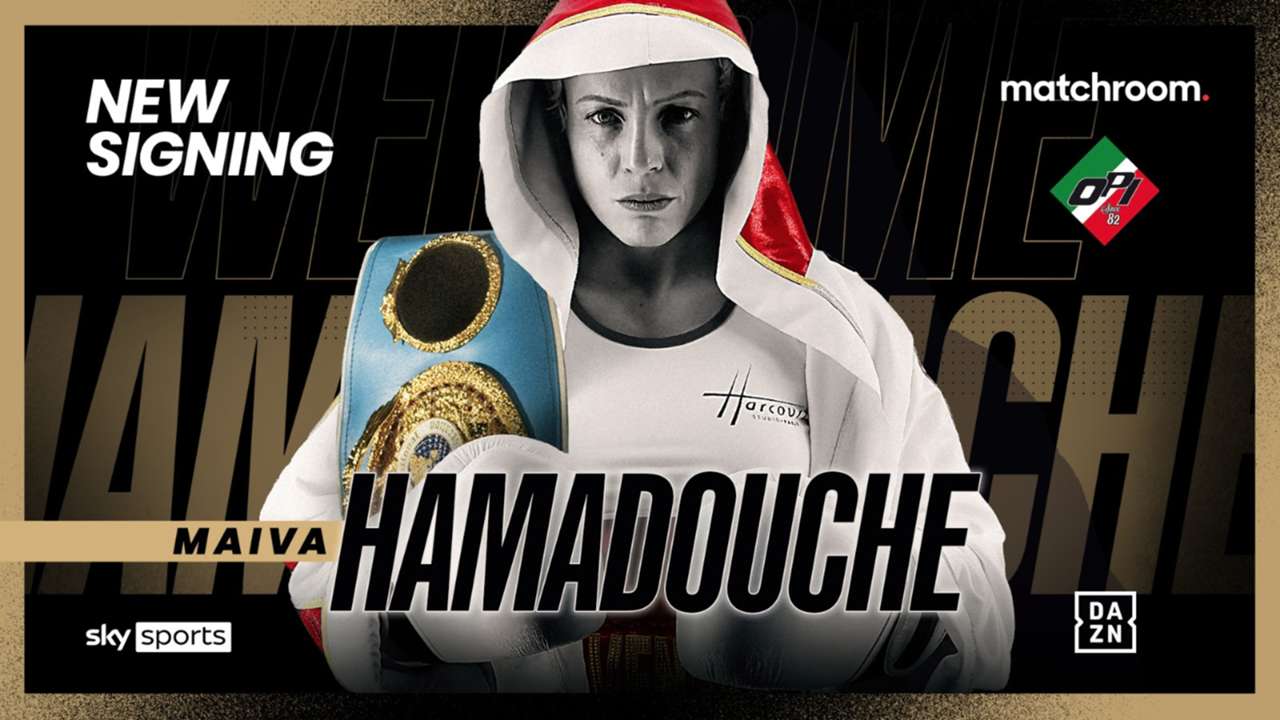 New Matchroom signing, undefeated French IBF World Super Featherweight Champion Maiva Hamdaouche makes a voluntary defence of her crown against Nina Pavlovic. Hamadouche (20-1) has one career defeat against the formidable champion and pound-for-pound top 10 female Delphine Persoon over 10 rounds.
Matchroom initially signed Hamadouche for her to face off against Natasha Jonas but Team Jonas rejected the offer to face her on November 14 on the Female World Title Tripleheader. Instead, Hamadouche will make a routine and relatively simple defence of her belt against Pavlovic (6-3) on the undercard of Patera Boschiero as a warm-up for a big unification fight against WBC Champion Terri Harper in spring of 2021.
Promoter Eddie Hearn on Patera Boschiero: "This is a stacked night of title action and I'm pleased to end a difficult and challenging year out in Italy on a high. Francesco Patera will be knocking on the door for a world title shot in the brilliant lightweight division should he get past Boschiero.
Gamal Yafai gets his European title shot but faces a tough task against reigning champion Luca Rigoldi. It's great to see our recent signings Maiva Hamadouche and Sandor Martin out so soon, there are some huge fights out there for the both of them in 2021 if they win on December 17. Don't miss Patera Boschiero on DAZN."