Last Updated on 17 Sep 2021 1:37 pm (UK Time)
After Anthony Joshua's composed, systematic, brutal beatdown and eventual knockout of IBF Mandatory challenger Kubrat Pulev; boxing fans and promotional outfits of both Team Fury and Team Joshua have emphasised that Joshua vs Fury must be next, but can and will it happen next?
Joshua Knocks Out IBF Mandatory Kubrat Pulev in the 9th-Round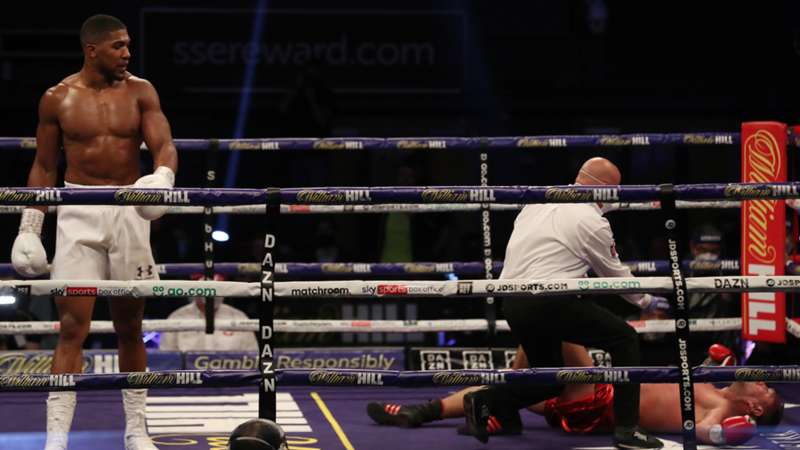 After a year out of the ring, Anthony Joshua made a statement to the heavyweight division with an impressive performance leading to a devastating knockout. Joshua was able to show that he could alternate between different styles of boxing at range behind the jab and then throwing sharp, fast combinations on the inside when he has his man hurt.
There was a cagey start from both men in the first two rounds with a jab-battle that was won by Joshua early despite Pulev's Jab being his best asset. In round 3, Joshua got Pulev hurt and followed his predatory finishing instincts throwing a hard right hand leading to Pulev being counted. Seconds later, Joshua's signature punch: his right uppercut sent Pulev to the canvas.
Joshua then attempted to finish the fight in the remainder of round 3 but was unable to do so. Then learning from the first Ruiz fight instead of emptying the tank going for the knockout in round 4 he went back to his jab and let Pulev come to him. After a slow few rounds, Pulev had his best moments in the fight in the 8th landing a flush right hand.
In round 9, Joshua closed the show with a barrage of uppercuts that led to a third knockdown and then a clean, strong, vicious right hand which saw Pulev fall face-first on the canvas with no chance of getting up. Even with the predicted amazing performance, it is still evident that Joshua is not fully confident in his ability yet as he is waiting too long due to the fear of being countered.
At the post-fight interview, Eddie Hearn made it clear that he wanted Joshua vs Fury next, but is it going to?
Obstacles to Joshua vs Fury:
WBO Mandatory Situation: Oleksandr Usyk
The first obstacle to Joshua vs Fury is the WBO Mandatory situation. Usyk moved up to heavyweight in 2019 after becoming undisputed cruiserweight champion and immediately became WBO mandatory due to their rules. Usyk stopped Witherspoon in his heavyweight debut and narrowly outpointed Chisora in his first Test at the weight.
Usyk has made it clear to his promoter Eddie Hearn that he will not allow Joshua vs Fury to take place with the WBO belt on the line as he wants his title shot next. WBO President Francisco Valcarcel has now clarified that Joshua must fulfil his WBO obligation next and will not allow Joshua vs Fury.
Despite this, Hearn has claimed that they will request to the WBO to allow Joshua vs Fury as it is the 'biggest fight in world boxing' and give Usyk a hefty step aside fee. It is Anthony's Joshua aim to become undisputed champion and Hearn will do everything he can to make Joshua vs Fury next but will not allow the fight to fall through if the WBO doesn't sanction it.
Fury-Wilder 3: Trilogy With Deontay Wilder
Tyson Fury's contractual obligation to Deontay Wilder for a trilogy fight is another obstacle to Joshua vs Fury. Fury Wilder 3 was originally scheduled for July before the pandemic and then December 18 both at the Allegiant Stadium, Las Vegas. ESPN would not do the fight on that date due to a clash with College Football and with no other available date the fight has fallen through.
Bob Arum of Top Rank (Fury's Promoter) is adamant that the contract has expired and Fury no longer has this obligation despite the Force Majeure element. Team Wilder has also stated that they are looking for an opponent for Wilder for a fight in February and it looks as if they are no longer relying on the trilogy fight.
Fury originally was unhappy to box Wilder for a third time due to no dates in 2020 and him wanting to box in 2020. Now due to financial reasons, Fury won't box in 2020 anyway. How much difference will this have on the Joshua vs Fury fight? Can it take place without a crowd?
Contractual Obligations, Promotion, Television etc
Anthony Joshua is exclusively promoted by Matchroom Boxing and Eddie Hearn while Fury has a contractual deal with Top Rank's Bob Arum. Hearn and Arum have previously got big fights done such as Lomachenko Campbell, Hooker Ramirez etc and this shouldn't be too much of a problem.
Fury also has Frank Warren and MTK Global working for him, Hearn and Warren don't have a good working relationship but MTK Global are one of the best management companies in the business and will get the fight for Tyson Fury if he desires it.
Anthony Joshua has an exclusive boxing deal with Sky Sports in the UK which means he will not be able to box anywhere else. This could be a major problem as Fury has a first-last deal with BT in the UK which means if BT Bid for the fight and it is the same or more than Sky and Sky are not willing to let the fight be on BT it could be a major problem.
The solution to this would be a joint broadcast in the UK between Sky and BT on Box Office but there are still questions as to whether both companies would be willing to share the rights. DAZN has the first-last deal with Joshua in the USA and Fury boxes exclusively on ESPN. DAZN's model is non-PPV which means a shared broadcast wouldn't make sense in the USA as ESPN would put the fight on PPV.
Joshua vs Fury is a two-fight deal which means we could see one fight land on BT and ESPN PPV and the other land on Sky Sports Box Office and DAZN. This would make sense for all parties. Either way, we must see Joshua vs Fury next and fans will not accept any excuses or obstacles to two fights taking place in 2021, even if that means the fights happening without the WBO World Title.