The Washington Wizards lost to the Miami Heat 115-109 on Friday night.
The Heat made it clear early on that they were going to attack the rim early. Hassan Whiteside scored off of a couple of dunks and Thomas Bryant also ended up getting in foul trouble. This led to the Wizards having no rim protection.
Washington finally got going towards the end of the half through Otto Porter who played on a minutes restriction. Although he struggled making threes today, his midrange game was more than enough by shooting 7-9 in 21 minutes of play.
It was a close game throughout until Miami went on a 15-6 run towards the end of the third that they took entering the fourth.
Overall, the Wizards played well. It is just a shame Miami has an excellent defense because Washington could have done a lot more but they played well as a whole. If Porter played starters minutes or if Trevor Ariza got going, that could have been the difference in tonight's game. Unfortunately the margin for error was so slim tonight because of Miami's great defense.
Bradley Beal continued to dominate
Yet another unappreciated gem in a terrific season for Bradley Beal so far. He finished tonight's game with 33 points, 9 rebounds, and 7 assists in 40 minutes of play. Heat head coach Erik Spolestra pinpointed Brad as a threat entering Friday's game.
"I don't care if they have Wall or not, they still have Bradley Beal," Spolestra said when asked about him.
The Heat were able to put a little more pressure on Beal tonight as the Wizards were very shorthanded. However, Beal did not let that get to him as he rose up to the challenge and continued to knock down tough shots.
Hassan Whiteside is a freak
Washington had no answer for this guy. Whiteside owned Thomas Bryant, ran faster than Ian Mahinmi and was too strong for Jeff Green. Whiteside finished with 21 points on 13 shots, 18 rebounds, and 2 blocks in under 30 minutes of action.
The only thing that stopped the bleeding was Washington's small-ball lineups that forced Miami to take Hassan out of the game. The Wizards will need to do this more often as they face Steven Adams, Joel Embiid, and Andre Drummond in the coming weeks.
Bradley Beal and Dwyane Wade shared a moment postgame
What a moment it was for Bradley Beal. He wants to have a storied career defined by championships and respect just like Dwyane.
After the game, when Beal was asked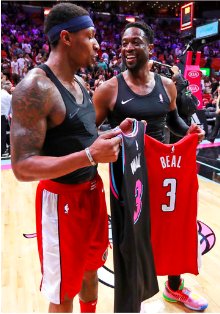 about Dwyane Wade, he said "He's (Dwyane) part of the reason why I wear No. 3 and for the first time I told him that tonight. I never told him that in all the years I played against him."
"It meant a lot," Wade said. "When he said it, I thanked him and I hope I was a good enough role model for him."