Way Too Soon Predictions
This is the week that the fancy dust covers come off and the teams get shipped to Barcelona at the weekend for the first F1 test of the new season, so what better time to throw out some wildly speculative predictions for the 2016 Formula 1 season.
Who will win the Driver's Championship?
Last year I didn't have any doubt that Lewis was going to come in and defend his title because only Rosberg could've challenged him. Rosberg though was never on the level of the extremely confident Lewis Hamilton last year and Lewis drove pretty easily to his third world title.
This year Ferrari should be a much improved team and Rosberg will be even more hungry to finally come out on top of his teammate. So who will win? Hamilton's run has to come to an end sooner or later, so lets err on the side of sooner and say Rosberg comes out on top above Hamilton and Vettel by the closest of margins.
Who will win the Constructor's Championship?
Mercedes should win this no problem as they have the most reliable engine and one of the better driver partnerships on the grid. I think the Ferrari's will be nipping at the heels of the Merc's all season but if Kimi under-performs as he has since moving back to Ferrari then I don't see them being able to mount a strong challenge to the supremacy of the Mercedes team.
What about Red Bull's chances?
Red Bull are in the trickiest position this year as they begin to go it alone after the split from Renault. However given that they will still be running with Renault engine power it's hard to see where they can make the gains in the chassis to compensate for the lack of power relative to their competitors. Red Bull at this moment in time are still dependent on the development of Renault and their engines in order to achieve success this year.
Red Bull will probably be hoping to secure a different engine partnership by the end of the year and hoping that they can jump up the field with some aero or chassis innovation as yet undiscovered by their rivals. In Ricciardo and to a lesser extent Kvyat they have very capable drivers who should see them on the podium a few occasions but ultimately I think that their lack of power and/or unreliability issues will hamper them this season leading them to finish fourth in the Constructors Championship with Ricciardo taking up Alonso's traditional position and finishing fifth in the Driver's Championship race.
How will the mid-pack shake out?
The race for the mid field positions should be closer this year than many of the previous years in recent memory for a myriad of reasons. Starting with the return of the Renault works team. The money from Renault should help keep development up throughout the year unlike the previous Lotus team. With an interesting driver partnership in Palmer and Magnussen and a hopefully improved engine should see them fighting further up the field than Lotus had last year.
Williams will again, I fear, be struggling to get wins despite an excellent engine and a very strong drive pairing. While the last five years have seen a slow increase in good results for the Grove based outfit they seem to have hit a ceiling in the last few years, perhaps lacking the budget or the design development direction to truly fight for wins on a race to race basis. But they should still be best of the rest fighting for podiums on a few occasions and having one of their drivers in the top five come the end of the season.
The wild cards of the midfield will be the Force India team and the young lads at Toro Rosso. Both teams performed above their expectations last year particularly the rookie pairing of Verstappen and Sainz, both of whom lit up races on occasion with there no fear style of racing. Given the updated Ferrari engine in the back and design influences making their way over from their sister team Red Bull expect more attacking racing further up the field from this team, perhaps pulling out a surprise podium or two.
Force India while looking for a new major investor as Sahara India try to sell their minority stake in company, should be quietly confident about they're chances this year after an excellent showing last year. With two strong and consistent drivers Force India should be setting their sights on beating the Williams team to full establish themselves towards the top of the mid-card teams. I expect a few podium finishes and perhaps one sneaky win in the year.
What about Mclaren?
This piece has me weary after my predictions last year, while they were not overly optimistic it was still waaaaaay too optimistic when compared to the disaster of a season that Mclaren endured last year. Another year of development and another year for Honda to sort out the kinks in the engine will it make them better? My guess is probably not much.
We saw from the development of the Ferrari from this year to the last that getting the engine situated and cooled in the rear was priority for them and other teams, all the while Mclaren pursue its size zero design philosophy which is no doubt causing some headaches for the Honda engineers. I do hope, for them and the sport, that the results are more apparent on track but if I had to guess I would say there will be major improvements in the reliability departments and smaller ones in the chassis ultimately leaving them scraping for the last few points in most races.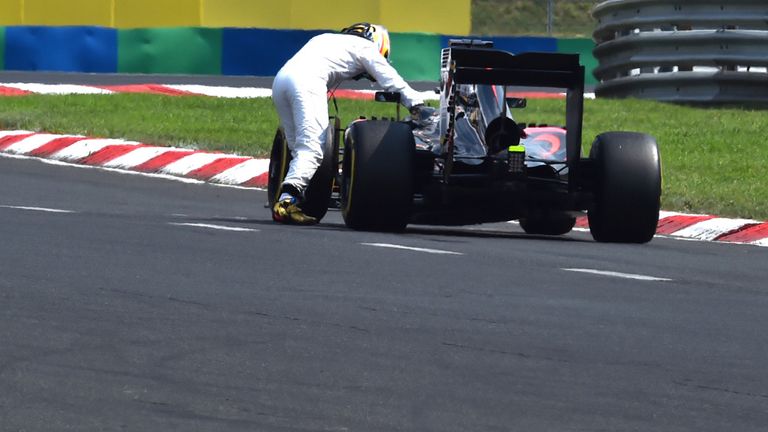 Final quick-fire predictions
Sauber will struggle financially and despite fighting each other on track fail to make much impact in races.
Podium hat throwing: Part Two Vettel Vs Hamilton.
The Baku race will be surrounded by controversy and won't be able to honour its race contract by the end of the year and fold.
Haas don't over achieve as they claim they will.
Ricciardo signs per-contract with Ferrari leaving the door open for Verstappen or Sainz to take a Red Bull seat next year.
Kimi announces retirement to spend more time riding snowmobiles.
A major car manufacture buys Sahara India stake in Force India.
Bernie Ecclestone will transfer his brain into a humanoid robot and rule F1 for the rest of time.
Channel 4 coverage won't be as good as the BBC because Eddie Jordan won't be on it.
That wraps up my kinda serious 2016 predictions, let me know what you think in the comments below, on Reddit @ /r/formula1 or tweet me @FiachCaffrey.