Updated:
Dec 2, 2021 10:47 pm
The Women's Tennis Association(WTA) has decided to suspend all tournaments in China, following their concern for Peng Shuai. The 35-year-old has been missing since making an accusation of sexual assault against an official during a recent WTA Tour event in the country.
Shuai, ranked 307 in singles tennis but is best known for playing women's doubles, winning Wimbledon in 2013 and the French Open in 2014 with her partner Hsieh Su Wei. The pair were also WTA Champions in 2013 and ranked World number one Doubles player in 2014.
WTA chief Steve Simon had "serious doubts" that Peng was, "free, safe and not subject to intimidation".
"In good conscience, I don't see how I can ask our athletes to compete there," he added.
Embed from Getty Images
China usually hosts 11 events on the WTA Tour with the Finals being held in Shenzhen, but Simon is concerned about hosting further tournaments there.
'I am greatly concerned" about the risks players and staff could face if events were held in China in 2022."The leadership in China has not addressed this very serious issue in any credible way,"

Steve Simon: BBC Sport
Embed from Getty Images
Meanwhile, former tennis champion Martina Navratilova reacted to the comments made by Simon, suggesting they were 'brave'.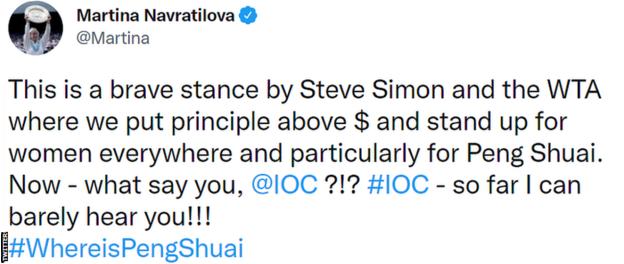 China issued a statement in October regarding the Peng situation, stating "people should stop deliberately and maliciously hyping [the issue] up, let alone politicize this issue."
Meanwhile, calls from around the world for the Chinese government to reveal the whereabouts of Peng Shuai and confirm her safety continue.