Updated: Jun 23, 2020 9:47 pm
Arsenal goalkeeper Bernd Leno has been ruled out for 4-6 weeks, the Arsenal stopper was involved in a aerial challenge with Neal Maupay with Bernd Leno landing awkwardly on his knee during Arsenal's 2-1 defeat against Brighton.
Leno was stretched off in agony by Arsenal's medical team just before half-time, where he vented his frustration towards the forward at the Amex Stadium on Saturday.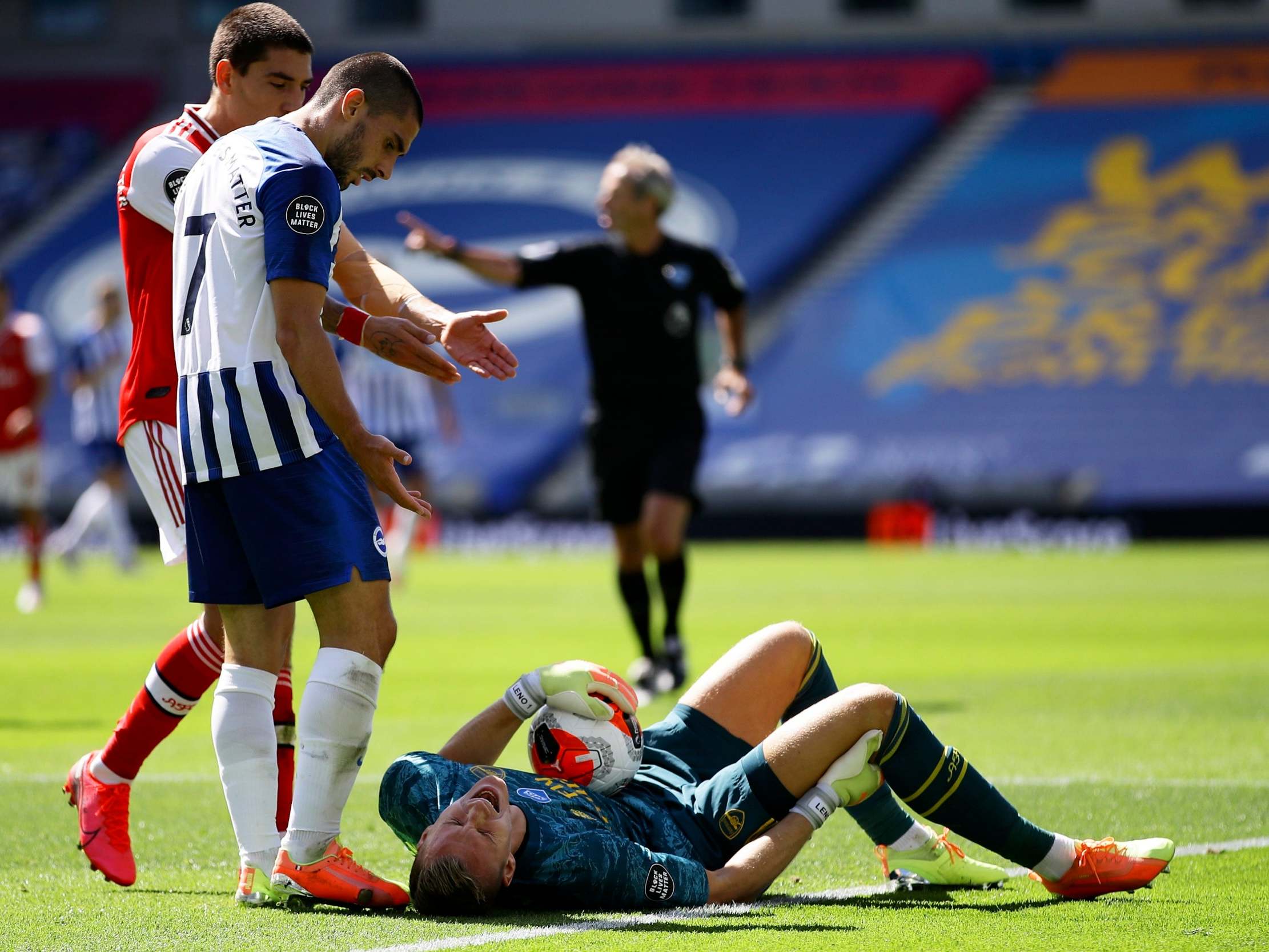 After the game emotions nearly boiled over as Bernd Leno's team-mates were furious with Maupay's actions. They surrounded the player after the final whistle with Arsenal's Matteo Guendouzi confronting the player.
After the final whistle, Brighton's striker issued an apology where he said he had no malicious intent on injuring the Bernd Leno and confirmed it was purely an accident.
The French striker wasn't happy with Arsenal players antics during the game and didn't hold back with his comments after the game.
He told BT Sport: "Some of Arsenal's players need to learn humility, maybe sometimes.
Since then, Bernd Leno has undergone medical tests to reveal the full extent of the injury.
The medical assessment team has revealed that the player injury is not as bad as first feared with slight ligament damage, Bernd Leno will be out for just over a month before he can think about returning to training with the rest of the Arsenal squad.
Emiliano Martinez will now act as cover for the injured goalkeeper for the remained of the season.
The news on Bernd Leno's injury is likely to end his chances of playing again this season.
Arsenal put out a statement and it said:
"Positive news after detailed assessments.

"Sustained moderate ligament sprain during Brighton & Hove (a) on Saturday. Aiming to return to full training in four to six weeks."
According to The Sun newspaper, Arsenal are looking to replace Bernd Leno with the Catalan giants back-up goalkeeper, but Barcelona may want Aubameyang as part of the deal.
Barcelona are not keen on losing their back-up goalkeeper, but having Aubameyang as part of deal will soften the blow.
Arsenal manager Mikel Arteta will now be forced into the  loan market for a replacement for Bernd Leno. According to Sport, Barcelona are most likely to want £18m for Leto if they are willing to sell.
Neto only joined Barcelona last summer from Valencia and he could be on the move again really soon if a deal can be worked out, the Brazilian shot-stopper is represented by agent Joorabchian who once famously brokered a deal Argentine's, Carlos Tevez and Javier Mascherano to the Premier League.